In the summer of 2005, an undercurrent of racism boiled over into days of riots in and around Australia's beach neighborhood of Cronulla.
One teenager who burned the Australian flag during the event became public enemy #1, with a focus of vitriol centered around his youth, ethnicity and emotive crime.
Through a series of exclusive interviews and stories over a three-year period, I followed his journey of understanding and redemption to humanize the person behind the persona, which the country's media had been quick to label "flag burner."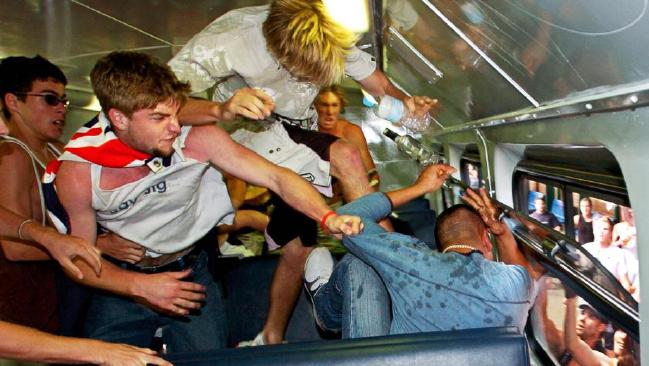 As he apologised to RSL Diggers for burning the Australian flag following the Cronulla race riots, the teenage rioter admitted having no idea what the "RSL" stood for: Returned and Services League. The court-ordered apology delivered behind closed doors has upset Diggers and members of the Brighton-le-Sands RSL, who were promised a public showing.
In Hurstville youth centre, the teenager of Lebanese descent faced four RSL representatives as he was given a 90-minute lesson on what it meant to be Australian. Shaking to the brink of tears, the Hurstville boy, who cannot be identified, said he wished he had never been caught up in the Cronulla riots.
''He was really upset and visibly shaken about the whole thing,'' RSL president Don Rowe said. ''You can tell the apology was fair dinkum.''
In a reprisal attack on the night of the Cronulla riots, the boy stole the Australian flag before setting it on fire and handing it to a group of friends who dragged, urinated and spat on it.
Nine months later, the boy, flanked by two of his cousins, faced the RSL group and apologised in private, despite being told in court he would have to do so publicly. He stood before Mr Rowe, Brighton-le-Sands club president Barry Worling and two other Australian army vets. Also present were three police officers and a convenor from the Juvenile Justice Department.
''He wished to apologise most sincerely for what had occurred,'' Mr Rowe said. ''He regretted his actions and was sorry he did any of it. It all came from the heart. We felt for him getting caught up in the riot and being told to do it by the mob. Peer pressure is a powerful thing to young people and he deserves the right to get on with his life.''
After the apology Mr Rowe and the other RSL members were given a chance to ask the teenager questions, such as whether he knew what the RSL actually stood for.
''He had no clue, so we spoke to him about who we are, what the flag means to us and what it means to be an Australian,'' Mr Rowe said. ''We told him over 100,000 people lost their lives laying the foundations for this country represented by our flag.''
But the apology — organised privately by Juvenile Justice with the RSL's consent — gave little comfort to club members. ''He was happy to burn the flag in front of an audience so he should be happy to apologise in front of one,'' Joy McRonald, of Ramsgate Beach, said.
The teenager must now write a letter of apology to the club's members and replace the flag.
flag burner to flag bearer
The teenager who stole and burned an Australian flag during the Cronulla race riots will carry the national symbol at the Anzac Day march.
In a move that has divided ex-Diggers, the NSW RSL has offered the 17-year-old, who stole the flag from Brighton-le-Sands RSL, a flag-bearer's position in next year's march through Sydney.
Anzac Day is usually reserved for war heroes; men and women who risked their lives for their country. NSW RSL president Don Rowe yesterday said the boy, a Lebanese-Australian who stole the flag during reprisal attacks after last December's Cronulla race riot, had accepted his offer ''enthusiastically''.
''Our nation's greatest day, I believe, is Anzac Day and the flag means everything to us, so here is an opportunity where he can come along and really get a feel for what the flag and the Diggers mean to the rest of us,'' Mr Rowe said. ''It's something for him to learn because obviously he didn't know what the letters RSL stood for and he probably wouldn't know what Anzac Day stands for if we thought to ask that question.''
The controversial plan has already found support in some ex-Diggers and families of those who died defending the country. Vietnam veteran Bill Myers, of Raymond Terrace, said he had ''mixed feelings'' but there would be no better way for the youth to learn what the flag and Anzac Day were all about. ''To Diggers it is a sacred day and there is no one who needs to learn that lesson more than this boy,'' he said.
War Widows Guild of Australia chief executive Patricia Campbell said anything that helps in understanding what the flag means to veterans was positive. ''In this case if the boy is genuinely remorseful and it adds to his understanding it can only be a good thing,'' she said.
The boy was convicted of stealing and burning the flag and a magistrate ordered he deliver a public apology to the RSL's members, which was given behind closed doors last month. Some members were angered and are now outraged the boy will be given the rare chance to handle the flag for the RSL.
Rex Martin, of Brighton-le-Sands, said it would only make the problem worse. ''We're trying to move on and forget about it but instead the RSL trumps this out and we have to relive the whole things again,'' he said.
June Touhill, also of Brighton-le-Sands, agreed. ''This boy is not grown up and mature enough to understand what it means to be in that position, it is an insult to the flag and the country," she said.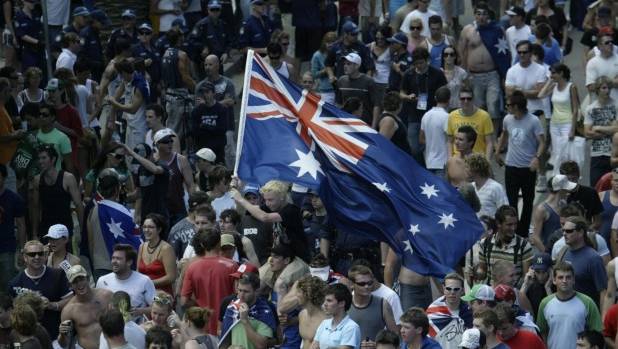 threats scuttle anzac gesture
The RSL has scrapped plans for the Cronulla riot flag burner to take part in the Anzac Day march amid a public backlash. NSW RSL president Don Rowe said he was saddened that his plan to educate the teenager in what the flag means had been scuttled.
''I think the people who made these threats ought to be bloody ashamed of themselves,'' Mr Rowe said. ''They just missed the whole bloody point of what we're trying to do here.''
The RSL received complaints from some veterans and club members who threatened to spit on the 17-year-old if he marched.
Accepting the RSL's hand of friendship, the youth's family have responded by inviting Diggers from the RSL to break bread with them after the dawn service. An Australian flag was flown in front of their home for the first time yesterday to show their support for the RSL and youth's willingness to learn from his mistake and take part in Anzac Day services.
The flag has spent three months in the boy's bedroom as part of the family's way of teaching him Australian values. Speaking on behalf of the family for the first time, the boy's uncle said it was time for the community to know how proud of the country the Lebanese-Australian family was.
''When he went to apologise I said to ask the Diggers if they wanted to come to the house after the dawn service,'' he said. ''We would put on a nice barbecue for them and they would be more than welcome.''
Mr Rowe said he would love to share a hot steak and cold beer with the family. ''Unfortunately I won't be able to attend because I will be busy with Anzac Day ceremonies but I'm sure there are a lot of Diggers out there that would happily take the hand of friendship,'' he said.
The boy was convicted of stealing and burning Brighton-le-Sands RSL's Australian flag in December last year in a reprisal attack for the Cronulla race riots. His apology was delivered to RSL members last month, when Mr Rowe offered him a place in the Anzac Day march.
The boy's uncle said the family was so distraught at his crime that his mother ''almost had a heart attack''.
''He does regret what he did, he is genuinely sorry and has copped what he deserved,'' he said. ''The punishment we gave him was much worse than anything anyone else could do.''
The teen rioter who burned the national flag said the RSL made him feel like a true Australian. In a written apology sent to the RSL and its members yesterday, the boy said he was surprised by their capacity to forgive his ''wrong, stupid, and hurtful'' act.
But the RSL and its members believe the public backlash against the 17-year-old carrying the flag at next year's Dawn Service could derail the bridge-building done in the wake of the Cronulla race riots.
The Hurstville youth, who cannot be named for legal reasons, said he now feels a part of the community and understands what the letters RSL represent.
''The people from the RSL who attended the conference were so supportive of me, treated me with so much respect. I regret now that I ever even thought about doing this,'' he said in his apology. ''They made me feel included, I felt like an Australian. ''Before I went to the conference I had never really thought about what the flag means.
''I now know what the flag means to others . . . what the RSL stands for . . . how people gave up their lives for the flag and the idea of a nation.
''I was scared about what they were going to say to me but by the end I was surprised at how nice they were, I feel I understand them better and what they stand for.
''Now that I understand how much my actions have hurt others, I wish I had never done it.
''I went down to Brighton to see what was happening, to see how people were reacting to what had happened at Cronulla. Everyone was angry and things were out of control. When I got involved I wasn't thinking about the consequences.
''What we did has caused a lot of stress to the people from the RSL but what happened has also brought a lot of pressure on the Muslim and Lebanese communities, who in some ways have been held responsible for our actions.''
NSW RSL president Don Rowe, who offered the teen a flag bearer's position on the Anzac Day march from the Martin Place cenotaph, said he still wanted him to take part in some way. ''This was a great opportunity to show Australia as a caring and compassionate nation and to recognise the youth's genuine remorse,'' he said.
Mr Rowe was forced to reconsider his offer after receiving hundreds of threatening phone calls and emails.
marching under a new banner
He committed the ultimate insult during the violence of the Cronulla race riots — stealing and burning the Australian flag. But the repentant teenager has vowed to inspire young Australians to respect Australian values, and has pleaded for calm amid fears of renewed violence on tomorrow's one-year the anniversary of the riots.
Premier Morris Iemma has warned extremist elements such as the right-wing Australia First party may want a repeat of the riots. Sydney's beaches will be crawling with officers, helicopters, dogs and the riot squad.
The repentant rioter yesterday spoke of why he burned the flag, why he won't carry one on Anzac Day, and why he didn't publicly apologise to RSL members.
''At one stage we felt hated. We didn't know what to do and that's why all this happened, why I got caught up in the crowd and why things went too far,'' he said. ''But what generated this was not just hate from that side it was hate from our side too, we are all responsible.''
His regret, remorse, and willingness to make amends is a turnaround for a youth who became public enemy No. 1 for burning the Australian flag at Brighton-le-Sands RSL, then accepting an offer to carry one in the Anzac Day march. Since serving his sentence, the Hurstville youth, who cannot be identified, has begun as an apprentice bricklayer and volunteers at a local youth centre. While he no longer socialises with the crowd he got caught up in last year, he has not turned his back on those that need and want guidance.
''I have been able to tell them. They see me as their mistake and how they can make amends, by following my example,'' he said.
He attributed his new outlook to NSW RSL president Don Rowe, who was one of the few Australians to accept his private apology, and who was criticised for doing so.
''He gave me a different perspective on life,'' he said. ''I've seen on the news how people put me down for wanting to carry a flag on Anzac Day, and that got me scarred. I haven't had that much hate before, especially for someone my age to have that much pressure placed on me was unbelievable.''
It was that same pressure he felt when declining to deliver the court-ordered apology to RSL members because. "I would have been speechless, that many people and that much anger, what am I to say? I wouldn't know what they expected,'' he said.
Instead of carrying a flag on Anzac Day, he will lay a wreath at the Martin Place cenotaph in a private moment with his family.

final steps to redemption
arson at rsl leads to walk on sacred ground
From burning the Australian flag and offending the memory of our fallen Diggers to following their footsteps on the Kokoda Track. The Sydney teenager started on a 110km trek through dense Papua New Guinea jungle yesterday after critics said he could never learn the values of the flag he so infamously desecrated.
In the wake of the Cronulla riots, Ali Ammar — who can today be identified for the first time with his consent — stole the Australian flag from the Brighton-le-Sands RSL Club and set it alight. There was outrage when Mr Ammar was offered a flag-bearer's position in the Anzac Day parade as part of an ambitious plan by NSW RSL president Don Rowe to help turn the teenager's life around.
''When that story came out there was a lot of anger by people who saw it as some sort of reward and said, 'Go make him walk the Kokoda Track instead','' Mr Rowe said. ''When the chance to actually do that came along he was very keen and excited about it.
''It will give him a great appreciation about what young Australians his age suffered during the war.''
Mr Ammar, 18, has embraced the walk and trained daily over the past few months to do it justice. The walk began with 20 other young men and women, some with similarly chequered pasts and others identified by the RSL for the Kokoda Youth Leadership Challenge.
Mr Ammar's uncle, Hassan Ammar said the family was in tears as his nephew left on Monday for the 10-day hike. ''We're so happy that this has all turned around for him. He has been in so much trouble in the past three years,'' he said. ''But now he is ready to put his hand up and take responsibility. He is not ashamed of who he is any more.
''Everybody does mistakes but we're way beyond all that trouble now and the family is much closer because of it.''
By taking part he is required to make a commitment to community service as a form of repayment. This is on top of legal sanctions for the 2005 flag burning, including an apology to the RSL members. RSL & Services Clubs Association boss Graeme Carroll said the trek was not about more punishment. ''This is about showing him other ways to live,'' Mr Carroll said.
After 10 days of battling mud, rain and self-doubt, Ali Ammar has earned the right to be known as something other than a flag burner. The 18-year-old Australian finished walking the 110km Kokoda Track yesterday in pursuit of personal redemption and the coming together of communities divided by the Cronulla riots.
''It was extraordinary. It was tough but we pulled through,'' he said after completing the grueling jungle trek. ''Mentally it gets to you but just knowing all these things that I never knew about . . . Australian values. Why the soldiers were up here in the first place. How they were fighting. We learnt a lot.''
Mr Ammar shocked the nation when he stole the Australian flag from the Brighton-le-Sands RSL and set it alight in the wake of the 2005 Cronulla riots. Former Diggers were outraged when it emerged at his court-ordered apology to Returned and Services League members that he had no idea what the ''RSL'' actually stood for. When a plan to have him carry a flag during this month's Anzac Day march was shot down in the face of overwhelming public objection, Mr Ammar accepted the offer to take on the Kokoda Youth Leadership Challenge instead.
''At first I had doubts but when my uncle spoke to me he said 'this is our chance, this is our opportunity','' Mr Ammar said. ''One, where you can learn more about the culture and, two, to bring our communities closer together. Three, to know what I really done was wrong.''
Mr Ammar spoke passionately yesterday about the hardships faced by Diggers fighting the Japanese on the Kokoda Track during World War II — of how they gave their lives for the bloke standing next to them. And how, if he was among them, he doubted he would have been able to pull through such an ordeal.
The first thing Mr Ammar will do when arrives back in Sydney is spend time with his family. Having seen the conditions of the locals in Papua New Guinea, everyday things like electricity, roads and education seem like blessings taken for granted. But the end of his Kokoda trek is not the end for Mr Ammar, who has vowed to make a new start and be someone the country can be proud of.